13 Day Celtic Roots of Ireland
Booking Dates
06/08/2023 through 12/16/2024
Travel Dates
08/17/2018 through 12/31/2024
Provider
Kensington Tours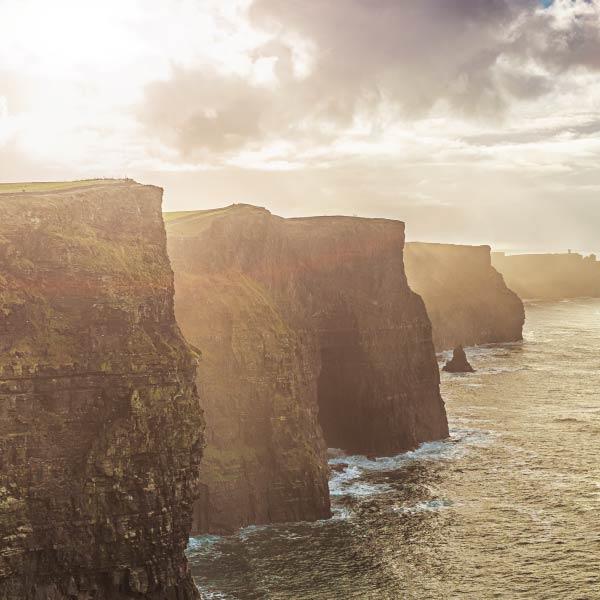 13 Day Celtic Roots of Ireland
Every corner of Ireland has a story to tell; all you have to do is listen. Oral tradition has been a part of the culture here for as long as there's been a culture, and in the hands of a gifted storyteller, the lines that separate Ireland's ancient past and its recent history blur and shift. Immerse yourself in Irish culture, discovering the Celtic roots, landscapes, history and tales that make Ireland a place of legendary status. Embark on an in-depth journey of the country with a private driver-guide, stopping along the way to meet up with local experts in a multitude of fields, all helping to unearth the rich intricacies behind the Emerald Isle.
This exclusive Explorers Club Collection journey through Ireland begins, appropriately enough, in Dublin, where you'll have the chance to test your abilities at a Gaelic Games experience, before spending a day in the company of author and historian Lorcan Collins, who will regale you with tales, retracing the historic 1916 Easter Rising in Dublin. Later, hike the startlingly picturesque UNESCO-protected Howth Peninsula – described by author H.G. Wells as "the most beautiful view in the world" – and take a private tour of Howth Castle. In the countryside, the story of Ireland is brought to life by skilled local experts. You'll explore the Waterford Camino trail with PHD spiritualist Phil Brennan, tour Cobh (last port-of-call for the RMS Titanic) with historian Michael Martin, and take to the skies over Skellig Michael and the fabled Ring of Kerry via helicopter with archaeologist Isabel Bennet. You'll also witness the captivating intersection of nature and human history at Beara Cork, discover the archaeological treasures and unique birdlife of the Dingle Peninsula, and so much more, returning home most nights to a fascinating array of accommodations ranging from restored castles to converted lightkeeper houses. With a wide range of unique accommodations, there is no doubt you'll be overcome by the Celtic spirit. Raise your glass to this once in a lifetime expedition through Ireland.
The Explorers Club Collection by Kensington Tours is an exclusive suite of travel experiences inspired by the expeditions of the world's foremost society of scientists and adventurers. Each tailor-made Explorers Club trip connects you to the world's most fascinating people, places, and experiences with expert local guides and award-winning 24/7 service support. On-trip experts and experiences are subject to change depending on availability.
| Day | Description | View All |
| --- | --- | --- |
| Day 1 | Dublin To Welcome | Details |
| Day 2 | Dublin | Details |
| Day 3 | Dublin | Details |
| Day 4 | Dublin To Waterford | Details |
| Day 5 | Waterford | Details |
| Day 6 | Waterford To Cork | Details |
| Day 7 | Cork To Kenmare | Details |
| Day 8 | Kenmare | Details |
| Day 9 | Kenmare To Clare | Details |
| Day 10 | Clare To Cong | Details |
| Day 11 | Cong | Details |
| Day 12 | Cong To Straffan | Details |
| Day 13 | Straffan | Details |